When I replaced the PDU with my version I did not bother with a battery charger.  As we never had a hook up, there was no point But last week we spent a few days on a campsite – with a hook up!!! Maybe we are getting old. 
We didn't really need it, but I reckoned on a campsite nowadays you have to pay for a hook up whether you use it or not, and so it's best to use the site's electricity rather than my gas for heating.  We also found out, after nine years ownership, that the hook up also heats the water. This is good but there does not seem to be any control of the water temperature and its gets very hot.
The little solar panel kept the battery charged, but I thought it would be good to be able to charge the battery conveniently from the mains. We can charge it now, but it involves a cable running across the floor from a mains socket over the fridge on the left to the battery compartment on the right.
The old (horrible) PDU had a built in charger which gave 18A!  Why? That is a continuous 200W. which averages at 5KWh per day. That is more than our house!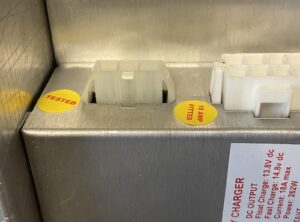 But I pirated the mains connector from the old PDU and attached it to a 4 way mains socket.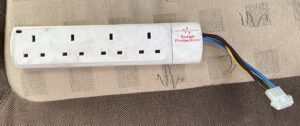 Then I plugged the old PDU connector into the Van Harness giving me 240V available right beside the battery.  

Then, on site,  all I need to do is simply plug in my Ctek charger. and connect it across the battery.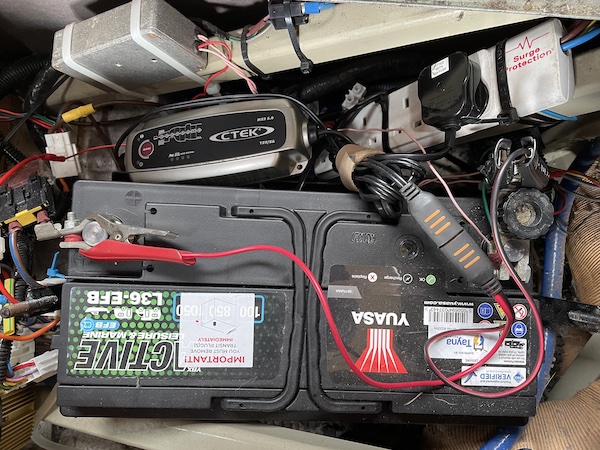 It is capable of providing 5A or 120AH per day.  My weekly usage is only around 72AH. 
So, now if we go on site and get a hookup we can leave the lights on all day (not sure why) and stay nice and warm and have hot water without it costing us anymore than the site fee. In reality it would be useful if we stayed on a site for a week without driving in winter.  We haven't dome that yet – in nine years.
In the last nine years we have never needed to charge the battery. The alternator and the small solar panel has taken care of it.  But we have only ever used a hook up twice, and that was this year (2022).
I guess if we are on a site and a hook up is included in the site fee we may as well use it, and save the gas. When bought in 13Kg canisters, the KWh works out the same as domestic electricity. On cool days  I guess we would use an average of 1Kw while we are up and about or 16KWh per day.  That would cost around £5 in gas so this is an indication of how much extra we should pay for a hook up (if we have a choice).