I have a few Guitars – too many.  I will shed some soon.  This post is mainly to remind myself what I actually have got, and what strings are fitted.

Freshman FA350FBF
My favourite guitar.  Not much on line but I found this on Freshmans Facebook page.
We have been diving into our archives and came across some good old fashioned magazine reviews.
On this day way back in 2008, the Freshman FA350FBF model received one of the highest ever Award ratings, the highly acclaimed Guitarist choice Award for an Instrument under £500.
I have fitted a K&K pickup. It sounds quite good fed into an ordinary preamp input but wonderful into a higher impedance – like my preamp
It has Elixir 80/20 Bronze nanoweb 11/52 strings fitted July 2023


Martin LXME. fitted with a Fishman sys T preamp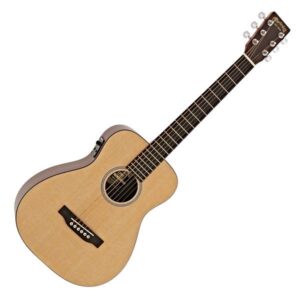 Martin have stopped selling the this model now.  It is fairly small and compact but at 1.9Kg, it's quite heavy for a wee guitar.
It sounds better acoustically than the Tanglewood below, but nowhere near as good as the Freshman above.
Elixir 80/20 Bronze nanoweb 12/53, fitted 2/8/2023


Tanglewood TWRT – E Roadster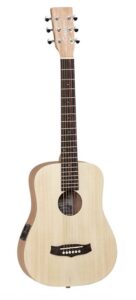 fitted with a TEQ 3BT pickup and tuner.
I bought this as a travel guitar, but it does not sound very good to me acoustically; that's why I bought the Martin. But it sounds fine plugged in.  It's smaller and lighter than the Martin at 1.6Kg, relatively inexpensive so it is ideal as a busking amp as long as it's plugged in.
Elixir Phosphor Bronze nanoweb 12/53 chosen to make the tone a little more mellow fitted 2/8/2023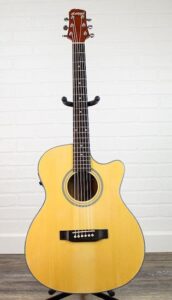 Ashland AFCE-10NT fitted with a Crafter C3T pick up arrangement which includes a very nice Tuner
Ashland are the "economy" Crafter guitars. It's nice guitar, the same size, but not as good sounding as the Freshman.  It stays in the shed for practising.
New strings will be Elixir Phosphor Bronze nanoweb 11/52 chosen to make the tone a little more mellow.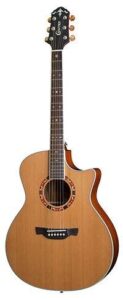 Crafter GAE 15. Fitted with a Crafter Timber Plus pickup with no tuner. It sounds OK, but is is very big and heavy.

Yamaha GL1 – fitted with a cheap piezo pickup bought off ebay years ago (I wish I could find more).
It's not actually a guitar! It's a Guitalele, tuned like a guitar at the 5th fret.  So fingering G comes out as C.
This is my second favourite after the Freshman.  It's small, light (850gm), and is responsible for me playing so many songs on a full size guitar with a capo on the 5th fret. It sound good when plugged into my preamp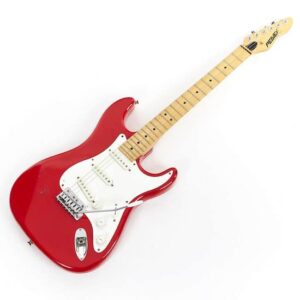 Peavy predator
It's probably good! One day I'll pick it up and try it out – I have never really played electric.


Strings
I usually use Elixirs because they last longer than most other brands.  But the decisions are Phosphor Bronze, vs 80/20 Bronze, and Polyweb vs Nanoweb.
According to Acoustic Guitar:-
When it comes to finding your tone and feel, Elixir Strings offers three acoustic premium string options, all with the same signature long tone life. The 80/20 Bronze with POLYWEB® Coating provides a warm tone and slick and fast feel. The Phosphor Bronze with NANOWEB Coating is rich and full-bodied with sparkling high-end clarity and a smooth feel. The 80/20 Bronze with NANOWEB Coating is bright and focused with the same smooth feel as the Phosphor Bronze strings.
So 80/20 Bronze Nanowebs are the brightest, and Phosphor Bronze Polyweb would be the warmest. But they are not made.  So what is the warmest 80/20 Bronze Polywebs or Phosphor Bronze Nanowebs?
Now my Martin could do with a bit of extra brightness, so the 80/20 Bronze Nanoweb looks a good idea.
The Tanglewood is pretty bright already so maybe the Phosphor bronze may be better.
Both of the above are 3/4 size – so what gauge? Apparently ALL Tanglewoods ship with 12/53s. The Martin come with 13/56s. But my wife plays it sometimes so lighter string may be better ate 12/53s
The Freshman has 11/52 80/20 bronze nanowebs on it and it sounds nice
The Ashland sounds bright anyway, so phosphor bronze may be better.
These are full size so 11/52's will be best.
So, at the time of writing I need
Martin 80/20 Bronze nanoweb 12/53
Tanglewood Phosphor Bronze nanoweb 12/53
Ashland Phosphor Bronze nanoweb 11/52
Now there are a lot of fake Elixirs on line just now. I am uneasy about buying them from Amazon as they have lots of suppliers and some are very (too) cheap. So it's a reputable company.  Elixir lists Amazon a supplier, but its bottom of the list.
Gak were the cheapest so I bought from there.