The story of how Cornwall's Covid new case rate rose from being almost the lowest in in the country to the highest in the country in three months.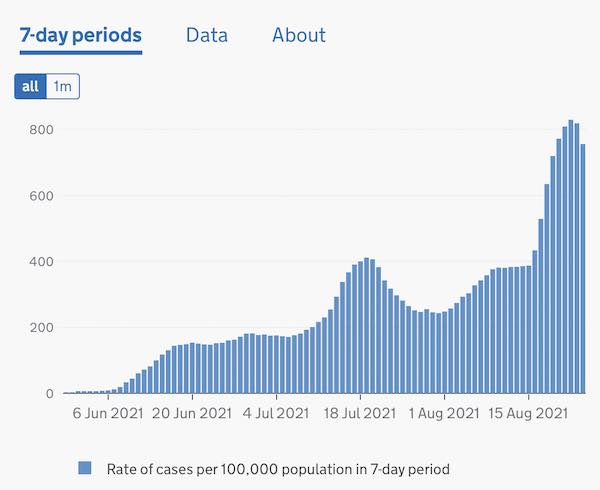 May 17th.
The UK Government began easing restrictions in England. At that time Englands cases were running at 227 new cases per day.  In Cornwall the figure was 52.
June 1st
The new cases began to creep up in England to 334. But the Cornwall figure dropped to 38.
June 14th 
Thousands of visitors from all over the world descended on Cornwall for the G7 summit bringing the virus with them. New cases in the UK had doubled to 750 but Cornwall's cases go up almost thirty fold to 1003.  The government decide to delay the planned easing of restrictions for 4 weeks.
June 18th
Before the cases have a chance to drop, the UEFA European cup matches begin and pubs crowd out for the the England matches.  The UK rate is 883 and Cornwall is 1477.
July 21st
10 days after the cup final, England new cases peak at an increase of  six fold to 5374. Although just as many people in Cornwall watch the footie in pubs, fewer go to actual matches.  So Cornwalls figure only goes up by 2.5 times to 3850.  Unbelievably, the government removed all restrictions on July 19th.
August 1st
Cases drop to 2917 in England and 2505 in Cornwall. But this is the beginning of the tourist season, and with foreign travel restrictions in place, Cornwall gets very crowded.
August 7th
In one week cases in Cornwall increase almost 40% to 3442.  England's cases do not change appreciably
August 22nd
One week after the Boardmasters festival, (11th – 15th August)  Cornwall's new cases reach 8336 per week, well over twice the England rate of 3302.
New cases in Cornwall were at 3844 per week per million of population on the day Boardmaster's Festival started, and 4500 higher a week after it closed, (figures from the government site).
Raw case numbers show 5,556 new cases in Cornwall between the start of Boardmasters and 1 week after it closed, but the media and the council only acknowledge 800 in Cornwall and 4700 country wide.
FAKE NEWS HELPS NOBODY.
"Coincidentally" England's case rate peaked on 23rd August showing 313,000 new cases since the start of Boardmaster's.  The festival undoubtedly contributed significantly to this figure and was a country wide super spreader
August 27th
Bank holiday surge in tourists. Cornwall to be Enhanced Response Area to tackle Covid-19 cases. 
The support is provided for a 5-week period, and includes the option to deliver extra testing within targeted areas, the provision of logistical support to maximise vaccine uptake, and further help for local campaigns.
August 28th
1 in 50 people in parts of Newquay have Covid.  Cornwall Pride Parade in Newquay. Cornwall Folk Festival in Wadebridge.
August 29th
Rainbowfest in Newquay.
---
Summary
The virus got a hold in Cornwall when the G7 conference was held. Some of those who caught it will have unknowingly passed it on to others who got together to watch the England matches on TV.
Before the numbers could fall, hoards of visitors descended upon Cornwall after all restrictions were removed by the Government.  Cornwall became a melting pot and cross contamination occurred in the crowded pubs and events, and in particular the Boardmaster's festival with 15,000 attendees with zero restrictions.  The huge spike in Cornwalls rate also contributed to the spike in the UKs rate.
Other than possible providing increased testing and opportunity for vaccine jabs no actions are being taken by the government.
Predictions
Cases will gradually fall in Cornwall as the visitor numbers go down, but due to foreign travel restrictions the number will still be higher than normal for the time of year right up to winter.  Cornwall is therefore unlikely to regain it's status as a low Covid area.  Cases in the UK overall will not fall appreciably, and there may be a substantial increase follow the restarting of schools (as has already happened in Scotland).
Last year there was a huge increase in cases as we went into winter, but things have changed substantially since then.  
On the plus side; we now have a high percentage of the population vaccinated. Only about 0.4% of people who catch covid and up dying. Last year it was about 2%
On the negative side; we are now dealing with a different and more contagious variant and Covid cases are thirty times higher than this time last year. The government has pledged no more lockdowns or restrictions. New strains are emerging continuously.
It will probably get worse as we head into Christmas, and maybe much worse.