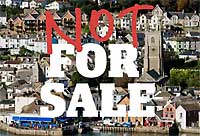 House prices are ridiculously high just now. In Cornwall the average house price in June 2021 is £330,000. The average salary is £26,000. Young people who have been born and raised in Cornwall cannot afford to buy a house.
But in general, rents follow house prices, and thus the average rent now paid in Cornwall is £826 per month for a two bedroom house.
This also is unaffordable to young people so they are forced to either leave the county or live with their parents.
Clearly this situation is grossly unfair. The obvious fix is to build lots of affordable houses. (This is true of the UK as a whole). So why doesn't it happen? The houses could be built for sale or for rent as in "council houses"
Follow the money
First, who gains by building lots of affordable houses? The answer is the thousands of people on low income who currently cannot afford to live in their home county.
BUT, who loses by building lots of affordable houses.
Landlords will see the rents they can charge drop as people will take the low cost option.
Property owners will see their house price drop. They could be left in a negative equity situation. In Cornwall this includes the huge number of second home owners.
Property developers will see their capital value decrease as their portfolio of properties loses value.
THEN, who makes the call to build these houses? The government in the UK at all levels is dominated by the middle and upper middle classes. This includes all of the "losers" above.
New homes are being built, but really only as a token gesture The prices charged are way out of reach of the local first time buyers. They tend to go either to property developers to rent (possibly as holiday lets) or to incomers who have found they can now work from home.
When change does eventually come it will have to be in the form of council houses or similar which are available for rent only. This avoids them being snapped up by private renters. They must also only be available to residents of the county. But there has to be a will for this from the majority of the democratic leaders of the county. At the time of writing ALL Cornwall MP's are conservative and the conservatives also rule the council.
SO, the situation is unlikely to change any time soon.
The crisis continues
Update 18th September 2021

Michael Gove, who has recently  accepted £100,000 from a property developer has been appointed Housing Secretary. He is tasked with addressing the housing crisis, and the building safety crisis!  

The crisis continues